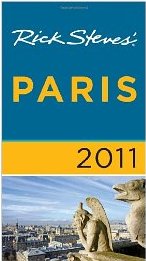 Rick Steves' Paris is just one in a long line of Rick Steves' travel guides, which are very popular for good reason – they contain pretty much all you need to know about whichever country or city you're visiting.
As somebody who has been to Paris many, many times over a 25-year period, I can tell, simply from the Table Of Contents alone, that this book is one of the better ones.
Unfortunately, when I visited Paris on an annual basis, I was living in England at the time and Rick Steves' guides were not available there at that time.
I did find a few guides that I really like ("Walking Paris" by Gilles Desmon was my favourite), so I am pleased to see that Rick Steves also includes some self-guided walks, as this really is the best way to see this beautiful city.
The walks take in many of the sights and areas you would expect to be included in any worthwhile Paris guide book, including the Louvre, the Musée d'Orsay, the Eiffel Tower, the Left Bank, the Champs-Elysées, Montmartre, but you'll also find some real gems that you may not yet be aware of.
Having been to most of these places myself, I can therefore recommend trying out the less well-known sights and areas, which include the Musée Marmottan and the Marais, and for those who love visiting the graves of the famous, you can spend hours wandering around the Père Lachaise cemetery (but make sure you buy a plan of the place first).
The Rick Steve's Paris book also covers all of the essentials, such as basic practical matters, a city orientation, the sights you simply have to see, as well as tips on accommodation and dining, how to cope if you have children with you, the best places to shop, entertainment, as well as places you can visit on day trips.
What's really important though, in my mind, is that the book is full of the type of insider information that only comes from somebody who has not only been there, but who loves the city with a passion (as I do).
Paris is arguably the best city in the world, with so much to see, but some of the most fascinating places are not necessarily on the main tourist trail, which is why you need somebody with Rick Steve's experience to point you in the right direction.
And at 680 pages, there's really nothing that he's left out!
The book is available in both paperback and Kindle versions too, so you don't necessarily have to lug a heavy book around Paris with you if you have a Kindle reader (or a Kindle-compatible device).
Read what one buyer, from Cleveland, Ohio, had to say about Rick Steves' Paris:
"This book was immensely useful for exploring Paris. It was nice to have it on the Kindle and pull it out at various museums. A lot of the museums didn't have signs and descriptions in English, so it was nice to have Rick Steve's reviews.
We even took it to the restaurants that he recommended and got free samples by mentioning the book. With so many things to do in Paris, it was useful to pull this book out in the evenings to plan our next day. We found the information to be relevant, current, and extremely useful. Would recommend if you're planning a trip to Paris!"
If you're visiting Paris, then we too highly recommend getting a copy of Rick Steves Paris well before you leave, as you'll want to allow plenty of time to peruse this book and make your plans on what you want to do when you get there.